Deep-Bore
Deep Bore is a multiple pass drilling cycle that offers some flexibility with regards to peck increments, chip clearing, and changing feedrates during the cut cycle.

Typically this cycle will start at the Safety Plane, drill down to the first peck depth, retract enough to break the chip and then bore to the next peck depth. There is a parameter setting for the Chip Clear Increment and Chip Break Height where the tool can retract to the clearance plane between pecks to remove chips from the hole. There are also parameters available to change the feedrate at a certain point during the cut and allowances to change the peck increment at a specific depth, as well as new chip break and chip clear increments.

This cut cycle is meant for drilling in very thick material or when the tool needs to be retracted several times to keep the chips from clogging the tool.

Holes drilled with this cycle should be grouped together like canned cycles so that each cut task can run on each hole.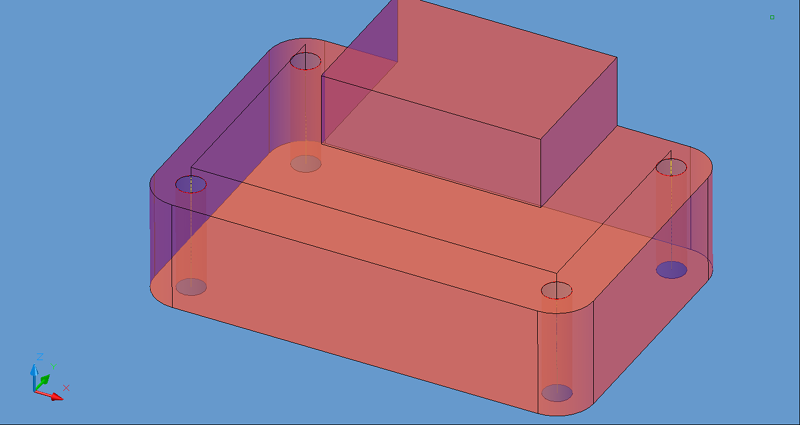 Deep Bore Cycle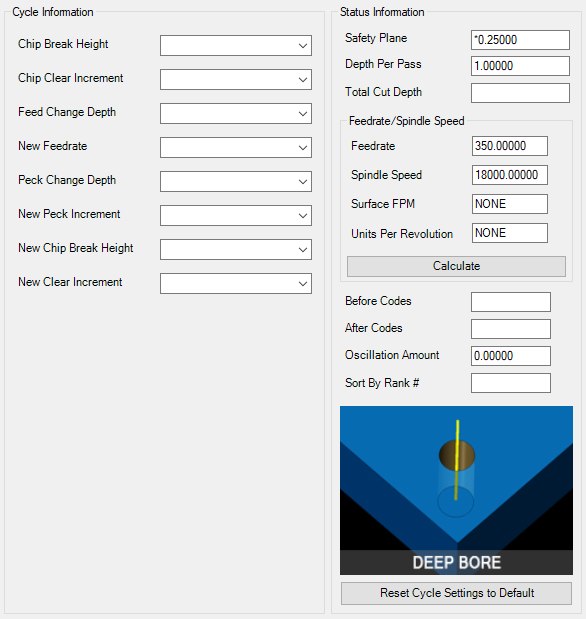 Deep Bore Parameters
The following parameters effect the toolpath creation:
Chip Break Height
How far to back up on a chip break move. A chip break move is usually a short motion to fracture the chip, and does not clear the hole.
Chip Clear Increment
Usually a multiple of the peck increment. When this secondary increment is passed, the drill is retracted to the clear plane.
Chip Break and Chip Clear work together making short strokes until the drill is loaded, then clearing the drill and starting over.
Feed Change
Entered as a depth in Z (typically negative). Change to a new feedrate when this depth is reached or passed.
New Feedrate
New feedrate to change to when the Feed Change depth is reached or passed.
Peck Change
Depth to modify the Peck Increment, and chip handling values. Change to new pecking and chip handling values when this depth is reached or passed.
New Peck Increment
The value to use as the Peck Increment once the Peck Change depth is reached or passed.
New Chip Break
The value to use as the Chip Break Height once the Peck Change depth is reached or passed.
New Clear Increment
The new Chip Clear Increment to use once the Peck Change depth is reached or passed.
**Changing values in the cycle parameters may yield unexpected results with some settings or on some geometry. Examine the toolpath and NC Code carefully before running your machine tool if you change these default settings.