AutoNest View Nest

The ViewNEST command is used to output nested task layout(s) (*.sym) onto the current AutoCAD session as a drawing. This command is especially useful for viewing of already nested layouts (e.g. BatchNesting), viewing of updated nested layouts when there is change in the report text size or output file format type (as specified in Sysdata) - without having to re-nest the task again.
ViewNEST will enable you view nested results with Auto-bridge/ Skeleton-Cut-Off.
ViewNEST will prompt :-
View Nesting Results:
Insertion Pt <RETURN for (0,0)>:
Select a point (lower-left corner) where the nested layout will be placed.
Nested File Name (? for list) <> :
Enter the nested Task name or enter "?" to select from a window pop-up, showing the nested files from the TASK directory.
Nested Layout to Include [Auto-Bridge/None] <None> :
Enter "A" to include bridging with the nested layouts, otherwise just press the ENTER key.
Include Skeleton Cut-Off? (Y/N) <N>:
Enter "Y" to include Skeleton-Cut-Off, otherwise just press the ENTER key.
Nesting Summary Report
There are 2 reports :- "Layout Summary" and "Task Summary". These are created for each nested task at two places.
a) Near to the nested layout (default : right-hand side of layout)
b) Text file in a . SUM file
The position of these reports displayed on the drawing is customizable in ANEST.SET.
You can set the TEXTSIZE of these nesting reports on the drawing through the Sysdata. In the same command, you can also choose NOT to display it with the nested layout. As for the layer and color of the reports, you can define them in "Layer / Color Setting" of Sysdata.
The following information will be presented in the Nesting summary report:-
| | |
| --- | --- |
| i.) | Name and quantity of parts nested / unnested. |
| | |
| --- | --- |
| ii.) | Total area and perimeter of parts nested |
iii.)

Area of enclosing rectangle of nested parts

x 100 %
Area of stock sheet
iv.)

Sum of area of all parts nested

x 100 %
Area of enclosing rectangle of nested parts
| | |
| --- | --- |
| v.) | Stock Utilization (area of parts / area of stock x100) % |
Sample "Layout Summary" Report
NESTING REPORT OF TASK NAME : PIP




STOCK

STOCK #1

QTY

1

COST

99.00

STOCK SIZE

2423.20x6121.50

ENCLOSING RECT

2291.70x5966.50

ENCLOSING RECT

13672831.70 /

STOCK SIZE

14833373.94

92.18%

TOTAL PART AREA/

9400020.32/

NESTING SUMMARY

ENCLOSING RECT

13672831.70

68.75%

PART NAME

BASIC QTY

FILLER QTY

STOCK UTILIZATION

63.37%

PART1

6/6

-

PART2

12/12

-

TOTAL PART

PART3

24/24

-

PERIMETER

195202.62

PART4

18/18

0/ 50

PART5

18/18

-

PART NAME

PART1

6/6

TOTAL PARTS NESTED

78/ 78

0/ 50

PART2

12/12

PART3

24/24

PART4

18/18

STOCK

QTY

COST

PART5

18/18

2423.16x6121.50

1

99.00

SUB TOTAL

78/ 78

TOTAL

1

99.00
Irregular Stock Nested Layout:

Typical nested layouts:

Nested Layout with Auto-Bridge (Staydown):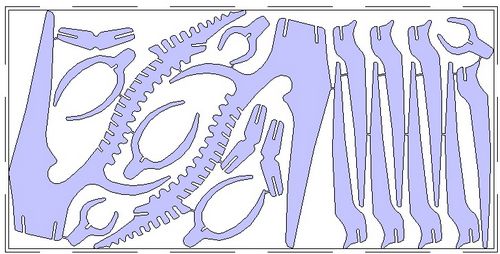 Nested Layout with Skeleton-Cut-Off: