Ramp Amount
The Ramp Amount is the distance during the lead-in that the cutter spends in the ramp to the Total Depth of the Cut.

Use this feature if you want the Ramp-Outside or Ramp-Inside profiling cycle to achieve full Z depth prior to the tool being on the finished edge of the part.
For example, if you have a lead-in distance of 1.0" in 1.0" material, but want the cutter at full depth before it reaches the part, you may specify a Ramp Amount of 0.5. The cutter will ramp down to -1.0" in the first 0.5" of travel and will spend the next 0.5" of its lead-in at the maximum Cut DEPTH.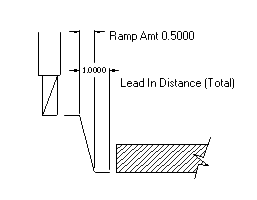 NOTE: Used with Ramp Inside and Ramp Outside cycles only.