Fast Drill
There is a Fast Drill cycle included with Router-CIM. Not all machines support this feature, but most Fanuc controlled machines will. The basic idea is to remove the dwell caused by switching from rapid to a programmed feedrate, and back to rapid again on each hole. This causes a small dwell on each change from G0 to G1. Instead the code will keep the machine in G1 mode and change the feedrate from the speed programmed for the drill to the fastest feedrate available for the machine on the moves where there would normally be a rapid traverse move. This causes the machine to move much faster from hole to hole, by avoiding the dwell.

In use the cycle appears the same as Drill Motions, but the resulting NC Code in the program is very different.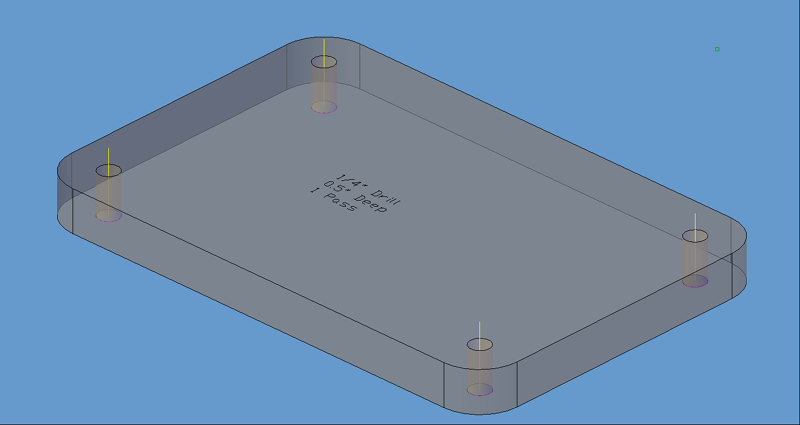 Fast Drill cut cycle.
The following parameters effect the toolpath creation:
Index Speed
This is the fastest speed that you want the machine to achieve between the drilled holes. This feedrate will take place of the rapid traverse move between cuts and during the retract of the hole. If the machine can make a fast linear move between the cuts, usually this will reduce the overall cycle time of the drill moves.
Fastdrill
This engages the fast drill cycle. Entering Y will turn it on. Entering N will turn it off and the g-code will revert to the 'Drill Motions' cycle.
Adding a Dwell/Pause at the end of a Drill Cycle
To add a dwell/pause at the bottom of a Drill Motions/Fast Drill cycle, you will need to adjust the following setting in the Drill Motions/Fast Drill cycle:
To make this change, go to the Router-CIM Control panel in AutoCAD and select the button for 'Mod Cycle'.
Change Position 17, 'Task @ Cut End (name/N)' in the Drill Motions cycle to DWELL/1 (or the time you want to pause, in seconds). You will get a G04P1 in the code after the tool is at cut depth.
Alternately on newer posts, you can use DWELLX/.1 and get G04X.1.
To make this change, select Position 17, 'Task @ Cut End (name/N)', type in the new value as stated above and hit 'Enter'. You should see the value update in Position 17.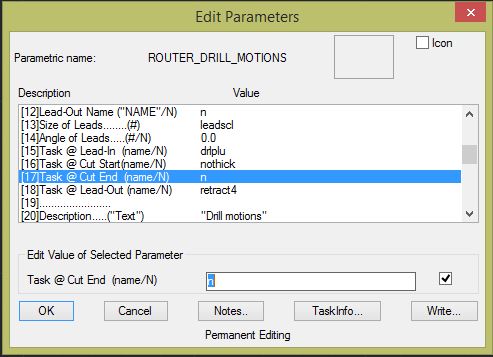 Note: To know which option is right for you, please review your Post Processor's Application Notes.
**Changing values in the cycle parameters may yield unexpected results with some settings or on some geometry. Examine the toolpath and NC Code carefully before running your machine tool if you change these default settings.