Lead Size

Use Lead Size to change the length of the leads. This field will affect both lead-in and lead-out if you put just one number in this field.
To change both leads separately, you can put two numbers in this field, separated by a space, and the first number will affect the lead-in and the second will affect the lead out.
Example: Lead Size = 2.0 0.5 will make the lead-in 2.0 and the lead-out 0.5. There must be a space separating the two numbers.
2.0 - lead-in
0.5 - lead-out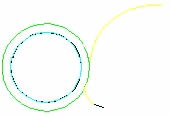 The default setting is a macro named leadscl, which will change the size of the leads according to the size of the tool.
On a Plunge Outside cut for instance, the arc leads will have a size equal to the diameter of the tool.