Save Knowledge Base
The 'SaveAs' button saves a selected knowledge base by name into the configuration database. The configuration database contains all the named knowledge bases that you see in the Knowledge List for each machine.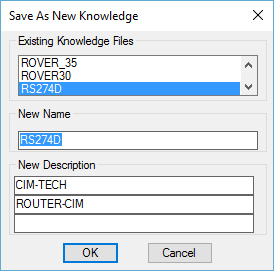 Existing Knowledge Files
The Existing Knowledge Files list displays the existing knowledge bases available for the current machine.
New Name
The New Name edit box is used to create a new knowledge base name for the Knowledge List. By typing a new name in the edit box and clicking 'OK', a new knowledge base name is created in the Knowledge List. This new name will have the same Description as the original unless you edit the Description fields.
New Description
The New Description fields are used to describe the named knowledge base. There are three lines of information available.