Pack and Go
The Pack and Go function will allow you to package any job into just one file that can be sent to another user of Router-CIM Automation Suite who can then unpackage that job and have the same settings as you did on your Router-CIM Automation Suite system when the job was run.
The Pack and Go function will ask you if you want to place all the output files into the package (if any were made) so that any results from the job can be viewed by the other user.

Once you acknowledge this window, file explorer will open and you can then see the pack and go file, which can be attached to an email or transferred via some other means to the other user.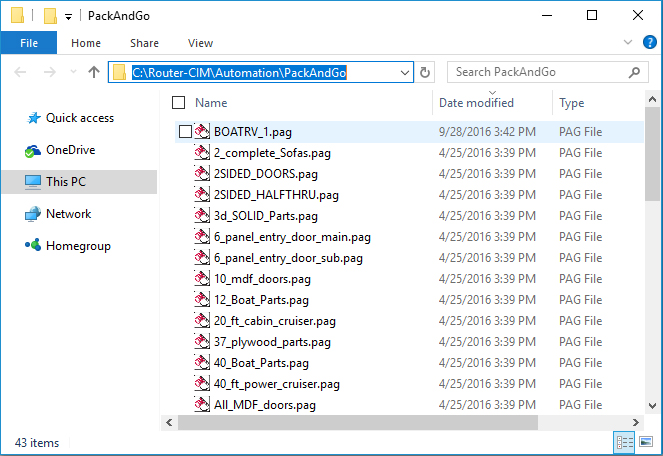 The folder, by default is C:\Router-CIM\Automation\PackAndGo.
Use Pack and Go as a Backup
Another use for the Pack and Go system is to create backups of jobs that have run, so that all the settings are stored in one location, regardless of the database. The pack and go function will place the following items into the PAG file.
•Any drawings, macros, or DXF files from the job, along with their path and folder if necessary.
•The Knowledge drawing used for the job.
•The DOIT file used for the job.
•All post processor files used for the job.
•All job related settings.
•The material used on the job.
•If specified, the entire results folder and contents.