Cut Direction

The direction of the cut can only be clockwise (CW) or counter-clockwise (CCW). This even applies to open shapes where this direction really has no meaningful relationship to the geometry selected. Any closed shapes should have the direction set accordingly and any open shapes should be set to CCW as all shapes in AutoCAD and Router-CIM are CCW by default.
CW
This is the setting for Clockwise direction. CW tool paths in Router-CIM will appear in Green by default.
CCW
This is the setting for Counter-Clockwise direction. CCW tool paths in Router-CIM will appear in Red by default.
Climb Milling or Climb Cutting
Each tooth engages the material at a definite point, and the width of the cut starts at the maximum and decreases to zero. The chips are disposed behind the cutter, leading to easier swarf removal. The tooth does not rub on the material, and so tool life may be longer. However, climb milling can apply larger loads to the machine, and so is not recommended for older milling machines, or machines which are not in good condition.
The default Cut Direction in Router-CIM is Climb Cut, both inside (CCW) and outside (CW). Change this direction to suit your needs. The drawing below displays how the direction is determined.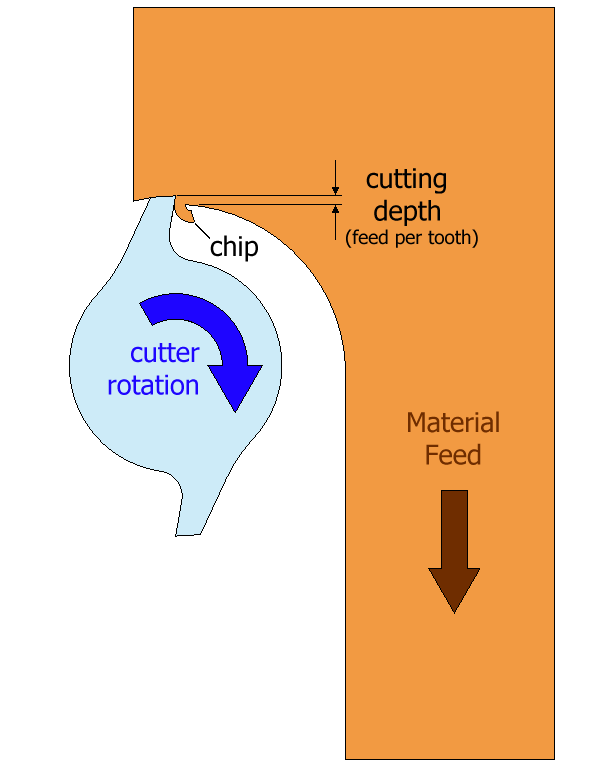 Climb Cut
Conventional Milling or Conventional Cutting
The depth of the cut starts at zero thickness, and increases up to the maximum. The cut is so light at the beginning that the tool does not cut, but slides across the surface of the material, until sufficient pressure is built up and the tooth suddenly bites and begins to cut. This deforms the material (at point A on the diagram, left), work hardening it, and dulling the tool. The sliding and biting behaviour can leaves a poor finish on the material, depending on material and tool types.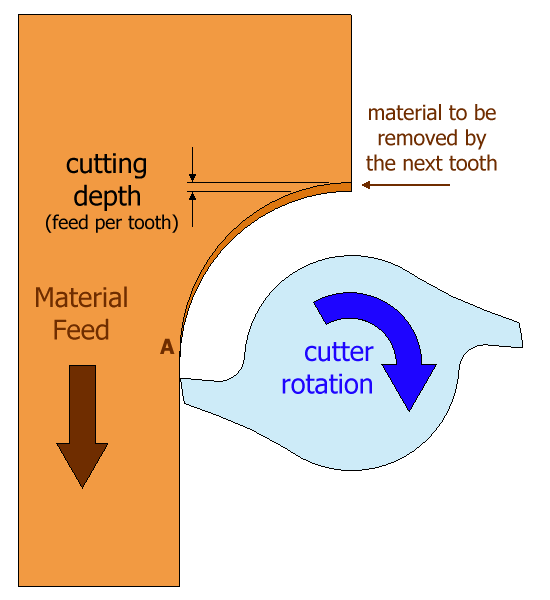 Conventional Cut