Edit Tooling Motions
Edit Tool Motions provide the editing and emulation of selected tool paths
The Tool Path Editor provides for the displaying of information, emulation of tool path and the editing of tool paths. The three dialog interfaces are described as:
Tool Path Information - The main dialog screen is used to set modes and traverse the NC program. The display includes the NC Code and current settings that are in the NC Program. Selection modes are available to rapidly traverse through the NC Program. The modes for emulation are selected in this dialog.
Tool Path Emulation - This dialog provides for display settings and a traverse button to move through the NC Program during Emulation. The NC Program is emulated each time the NEXT button is activated. The mode of emulation was determined in the Information dialog display. Emulation methods include Tool Vector display, Tool Drop (inserting of tool block) and highlighting (drawing of the tool path in different colors).
Tool Path Editing - This dialog is used to pick the form of editing to apply and whether the edits are to be done globally or locally in the NC Program. When OK is selected, the actual edit takes place.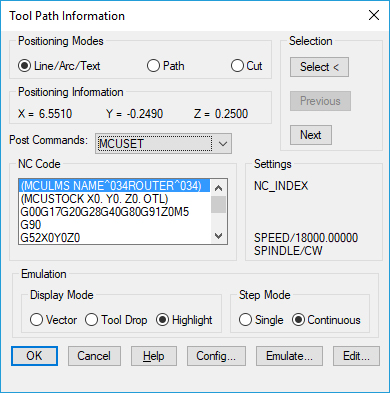 Areas in this dialog box that are not defined in other sections are described below:
Positioning Information
This area displays the current X,Y Z position at the location defined by the editor pointer. These coordinates at world space as defined by AutoCAD.
Post Commands
This area displays all the post processor commands used to develop the line of NC Code where the editor pointer is located.
NC Code List
This area displays the associated NC Code for the current Work Space. When the editor pointer is incremented the associated line of NC Code is selected in this list. This list can be used to move the editor pointer by scrolling to a location in the list and selecting the desired line of NC Code.
Settings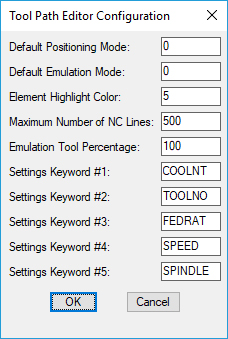 This area displays all the current settings defined in the Editor Configuration. Each time a Setting Keyword is encountered it is placed in this area of the dialog. Each time the Editor pointer is moved this scan is performed.