Touch and Cut

Touch and Cut is a tool that will allow you to select any part and have Router-CIM Automation Suite process only that one selected part.
When Touch and Cut is selected, you will be prompted to select the part that you want to cut: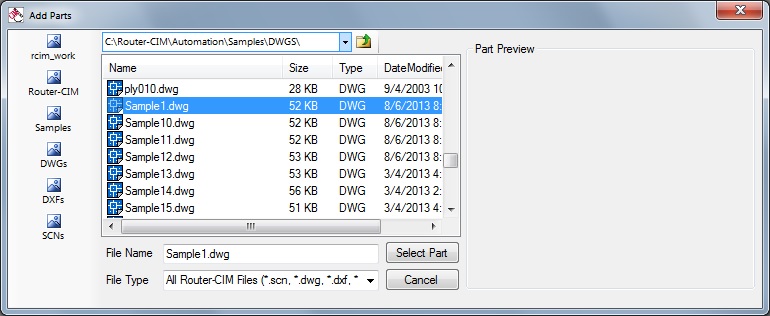 Once you select your part, you will be prompted to select the correct Knowledge drawing and DOIT file:

Selecting the 'Touch and Cut' button will now process the selected part with the Knowledge drawing and DOIT file you selected. You will then be prompted with a message asking if you would like to make NC Code. If you select yes, you will manually sequence the part in the AutoCAD environment to create your NC code.
Please refer to the Router-CIM manual for more information on how to sequence your part. The help manual is located on the Router-CIM toolbar in AutoCAD.
NOTE: Please keep in mind that if you are using knowledges that are set to read the material thickness (M in the total cut depth field), Touch and Cut does not use the material database when processing the part so your knowledges using material thickness will not have any depth of cut.