Position and Direction Control
You can change the cut direction from CCW to CW and the cut side from RH to LH. These options work like any other cut cycle in Router-CIM.
Total Cut Depth controls how deep into the material the tip of the tool goes. Depth Per Pass can create multiple passes. The safety plane is measured as the distance from perpendicular to the end of the shape. It is defined in the plane of the leads. If Horizontal leads are specified, the safety moves are horizontal. If Vertical leads are specified, the moves are vertical. Due to concerns on operator and machine safety, ALL moves from the safety plane are made in feed motions. The 4 Axis Safe value must be specified for this cycle, and controls how far above the shape we index.
Move Shape Z is a special parameter for the Fourth Axis Interpolation cycle. It shifts the position of the cut up (positive) or down (negative) in Z by the amount specified. If no amount is specified, and the shape has thickness, the cut will move by this amount.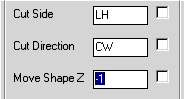 Moves the cut as shown: