New (Database)

Selecting New from Database Maintenance will allow you to create a new database entry in the database list and will allow you to make that database current.
This selection is used when you wish to create a new, blank database to work from.
The first window will prompt you for the name of your new database.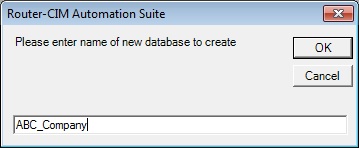 Type in a name and select 'OK'.

If you select 'Yes', then the database you named will be created and it will become the active database. If you select 'No', the database will still be created but will not be the active database.