The Configuration Wizard
A knowledge base is created when a machine (Router) is linked to a postprocessor. A knowledge base name will always default to the name of the postprocessor. However, you are free to choose a name to your liking. Knowledge bases are saved as part of the current AutoCAD drawing.
As you use Router-CIM you will find that altering knowledge base settings and/or defaults to suit your particular situation can be advantageous. These alterations can be saved under a new knowledge base name. The Configuration Wizard is your tool to managing knowledge bases.
The Configuration Wizard dialog appears when Router-CIM is launched. The Current Knowledge base appears in the grayed out area at the center of the dialog screen. It contains the Name and Description of the knowledge base that was last defined by the Configuration Wizard, or it will display the most recently dated postprocessor found when Router-CIM is started for the first time.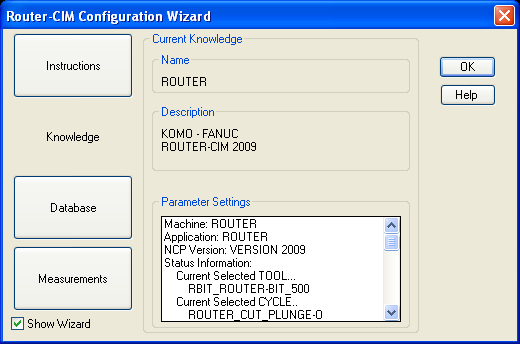 View the Parameter Settings in the window of the dialog screen. If the Machine and/or Application parameters are not what you want for a configuration, use the Database button to retrieve a different machine or postprocessor.
See "How to Configure Router-CIM for Your Machine" for step-by-step instructions.
To customize knowledge base settings and/or defaults see "Customizing the Knowledge Base".
Click 'OK' to exit the Configuration Wizard and establish the selected knowledge base in the current drawing session. After clicking 'OK' you can return to the Configuration Wizard to select a new postprocessor or to modify a knowledge base. To return to the Wizard, you must go to the RCIM pull-down menu and choose Configuration Wizard.